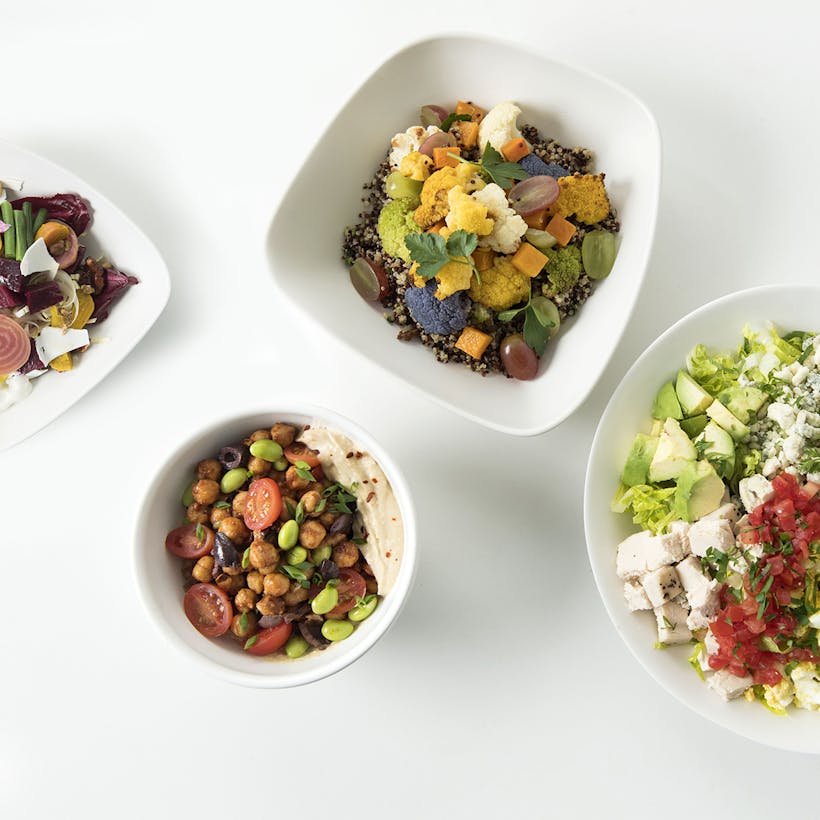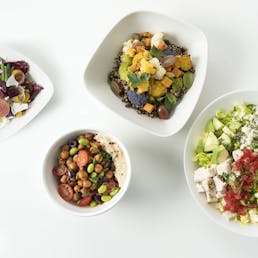 Choose from an assortment of vegetable-based salads, served in a large bowl to share, including flavors such as Chickpea & Hummus, Grilled Corn & Zucchini, Smoked Almond & Mushroom and more
More Details
This salad serves 6 guests
Choose from flavors listed below
Serveware includes disposable utensils, plates and napkins
If you have any food allergies or dietary restrictions, please let us know in the comments section at checkout
Vegetable Du Jour Flavors Include
Chickpea & Hummus – Chickpeas and Hummus in a Harissa Vinaigrette with Tomato, Edamame, Cucumber, Olives, and Basil
Bulgur Tabbouleh – Toasted & Steamed Bulgur Wheat, Cucumbers, Tomatoes, White Onion, Roasted Bell Peppers, Italian Parsley, Mint, Basil, with a Vinegar Based Hot Sauce
Smoked Almond & Mushrooms – Oyster Mushrooms, Cremini Mushroom, White Mushroom, (Mushrooms Roasted & Glazed In Balsamic Reduction), Caramelized Pearl Onions, Chives, Italian Parsley, Arugula Puree
Red Beets & Beans – Arugula, Red Beets and Haricots Verts topped with Wax Beans, Goat Cheese and a Pistachio Dressing
Ingredients
Chickpea & Hummus: Chickpeas, Harissa Vinaigrette, Tomato, Edamame, Cucumber, Olives, Basil, and Chickpea-Tahini Hummus (Chickpea, Tahini, Garlic Confit, Lemon Juice, Canola Oil)
Contains – Garlic
Smoked Almonds & Mushrooms: Oyster Mushrooms, Cremini Mushroom, White Mushroom, (Mushrooms Roasted & Glazed In Balsamic Reduction), Caramelized Pearl Onions, Chives, Italian Parsley, Arugula Puree (Arugula, Extra Virgin Oil, Sea Salt), Apple Cider – Balsamic Vinaigrette, Toasted & Steamed Faro, Sea Salt, Black Pepper, Arugula, Smoked Macrona Almonds
Contains – Nuts, Garlic, Onions, Mushrooms, Gluten
Bulgur Tabbouleh: Toasted & Steamed Bulgur Wheat, Cucumbers, Tomatoes, White Onion, Roasted Bell Peppers, Italian Parsley, Mint, Basil, Vinegar Based Hot Sauce (Vinegar, Red Pepper, Salt), Roasted Zucchini, Eggplant, Squash, Sundried Tomatoes, Salt & Black Pepper, Arugula with a Lemon Vinaigrette (Lemon Juice, Lemon Zest, Olive Oil, Canola Oil, Dijon Mustard, Xthanthan Gum, Sea Salt)
Contains – Onion, Gluten
Red Beets & Beans: Arugula, Red Beets, Haricots Verts, Wax Beans, Goat Cheese with Pistachio Dressing (Red Wine Vinegar, Oil, Salt, Pepper, Dijon, Pistachio)
Contains – Dairy, Dressing Contains – Nuts
Instructions / Storage
Side Salad arrives ready to eat
To store, place in the refrigerator refrigerator until serving
We do not recommend freezing this item.
Pick Up Details
Items are prepared fresh and shipped directly from the shop
Épicerie Boulud currently offers local pick-up or delivery 7 days a week
Have more questions about Shipping? Read our Shipping FAQ page.