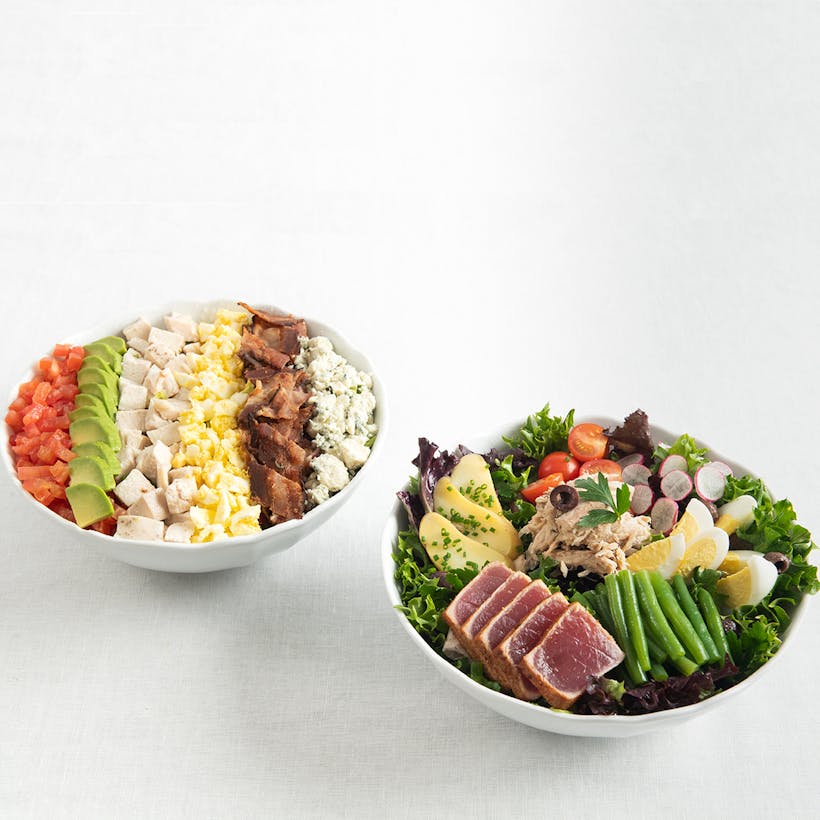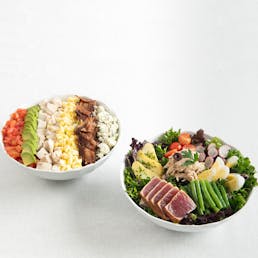 Choose from a variety of delicious, vegetable-based salads, served in a large bowl with dressing on the side
More Details
Salad serves 6 guests
Choose from flavors listed below
Serveware includes disposable utensils, plates and napkins
If you have any food allergies or dietary restrictions, please let us know in the comments section at checkout
Seasonal Salad Flavors Include
Chicken & Artichoke – Spice-rubbed Chicken Breast with Romaine, Baby Artichoke, Grape Tomatoes, Parmesan Crisp and an Arugula Pistou Dressing
Chicken Cobb – Romaine and Amish Chicken Breast topped with smoked Bacon, Crumbled Egg, Tomato, Danish Blue Cheese and a Tarragon-Buttermilk Dressing
Tuna Niçoise – Baby Mixed Greens, Seared Tuna with Haricots Verts, Fingerling Potatoes, Cherry Tomatoes, Egg, Niçoise Olives, Shaved Radish and a Dijon Mustard Dressing
Classic Greek Salad: Romaine, Cucumber, Tomato, Nicoise Olives, Feta, Pickled Red Onion, Pickled Green Peppers with an Oregano vinaigrette
Asian Shrimp: Romaine Lettuce, Carrots, Watermelon Radish, Daikon, Cucumber, Spring Onion, Snow Pea, Sesame Seeds, Edamame, Carrot Puree, Furikake, Carrot Ginger Dressing
Curry Chicken: Chicken, Mayonnaise, Cashew, Coconut Shaving, Pickled Raisins, Cayenne, Marinated Cabbage, & Curry Sauce
Consuming raw or undercooked meats, poultry, seafood, shellfish or eggs may increase your risk of foodborne illness.
Ingredients
Chicken & Artichoke: Spice-rubbed Chicken Breast (Paprika, Cayenne, Black Pepper, Salt), Romaine, Baby Artichoke, Grape Tomatoes, Parmesan Crisp with Arugula Pistou Dressing (Basil, Oil, Arugula, Pine Nuts, Garlic, Yogurt)
Contains – Dairy; Dressing Contains – Dairy, Garlic, Nuts
Chicken Cobb: Romaine, Amish Chicken Breast, smoked Bacon, Crumbled Egg, Tomato, Danish Blue Cheese with Tarragon-Buttermilk Dressing (Creme Fraiche, Mayonnaise, Buttermilk, Sherry Vinegar, Lemon Juice, White Pepper, Tarragon)—*Contains – Dairy, Egg, Pork*
Classic Greek Salad: Romaine, Cucumber, Tomato, Nicoise Olives, Feta, Pickled Red Onion (Red Wine Vinegar, Sugar, Onion), Pickled Green Peppers (Apple Cider Vinegar, Garlic, Peppers, Salt, Water, Olive Oil), with Oregano Vinaigrette (Dried Oregano, Red Wine Vinegar, Olive Oil, Salt)
Contains – Dairy, Onion, Garlic
Tuna Nicoise: Baby Mixed Greens, Seared Tuna, Haricots Verts, Fingerling Potatoes, Cherry Tomatoes, Egg, Niçoise Olives, Shaved Radish, with Dijon Mustard Dressing (Roasted Shallot, Garlic, Dijon Mustard, Red Wine Vinegar, Canola Oil, Extra Virgin Olive Oil, White Pepper)
Contains – Egg, Garlic, Fish, Onion
Asian Shrimp: Romaine Lettuce, Carrots, Watermelon Radish, Daikon, Cucumber, Spring Onion, Snow Pea, Sesame Seeds, Edameme, Carrot Puree (Carrots, Ginger, Sesame Oil, Canola Oil, Mirin, Honey, Carrot Juice, Soy Sauce, Rice Vinegar), Furikake (Quinoa, Soy, Barley, Nori), Carrot Ginger Dressing (Daikon, Ginger, Onion, Garlic, Carrot, Mirin, Sesame Oil, Soy Sauce, Canola Oil, Rice Wine Vinegar, Salt)
Contains – Soy, Gluten, Onion, Garlic, Sesame
Curry Chicken: Chicken, Mayonnaise, Cashew, Coconut Shaving, Pickled Raisins, Cayenne, Marinated Cabbage (Shallot, Garlic, Ginger, Salt, White Pepper, Red Peppers, Canola Oil, Olive Oil), Curry Sauce (Potato, Onion, Garlic, Granny Smith Apple, Ginger, Shallot, Yellow Curry Paste, Yellow Curry Powder, Tumeric, Coconut Milk, Lime Juice, Salt)
Contains – Nuts, Garlic, Onion, Egg
Instructions / Storage
Green Salad arrives ready to eat
To store, place in the refrigerator until serving
We do not recommend freezing this item
Pick Up Details
Items are prepared fresh and shipped directly from the shop
Épicerie Boulud currently offers local pick-up or delivery 7 days a week
Have more questions about Shipping? Read our Shipping FAQ page.